Don't let the most important day of your life wind up disorganized and out of control. By following a simple checklist, you can get to your wedding day relaxed and confident that everything is in place for your special day.
omniworldwide.com compiled a planning checklist to help you plan and organize the many moving parts of your wedding day.
12 MONTHS BEFORE YOUR WEDDING –

Make Your Wedding Budget
Many of the wedding-related decisions you will make over the next few months will be heavily influenced by the budget you establish now.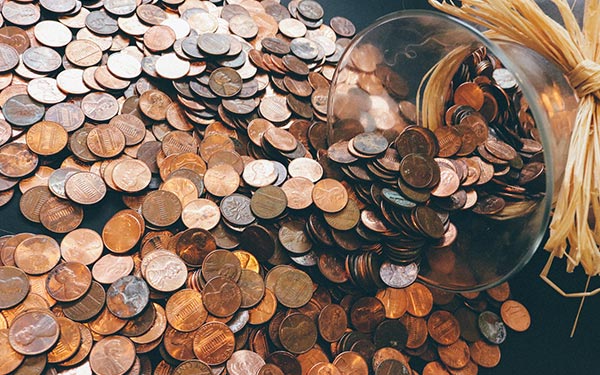 You and your partner should take a hard look at your finances and factor in any money that family and friends will be contributing to the wedding.
Once you determine your budget, stick to it.
Family Wedding Traditions
This is the time to consider any family wedding traditions. Discuss these traditions with your partner and include the ones that you are both comfortable with. This is also a great time to start new family traditions.
Decide Your Wedding Date
Before you can move forward with any other aspect of planning your wedding, you must determine your wedding date. Look ahead and be mindful of other family events (anniversaries, birthdays, reunions, etc.), holidays, sports or cultural events, etc.
Choose a date that works for you, your family, and friends. With enough advance notice, most can rearrange their schedules to be there for your special day.
Book Your Wedding Ceremony and Reception Venues
Now is also the time to book your ceremony and reception venues. The longer you wait, the more limited your selection will be. Consider booking a venue that serves for the ceremony and reception to eliminate the need for travel between the two.
Note: If you are planning to hold your ceremony in a park or forest setting, special use permits will likely be required for the use of government land.
Who's Participating and Who's on The Guest List?
Decide who will be in your wedding party and confirm that they want to participate. These are the people that will help you maintain order and consistency throughout the planning process. They will also be the people standing shoulder to shoulder by your side as you say your vows.
Start working on your guest list. Use a spreadsheet with columns for mailing addresses, phone numbers, RSVP's, and other relevant information.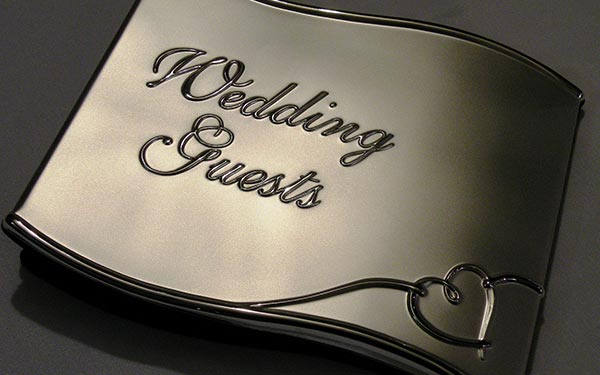 Tip: If you are on a small budget, the easiest way to reduce costs is to limit the number of guests.
Hire Vendors for Your Wedding
Reputable wedding vendors tend to book up quickly, up to a year in advance. Some of the vendors you should lock down now include:
Photographer – While many of your family or guests may offer to take pictures at your wedding, a professional wedding photographer will understand which moments to capture with appropriate backdrops. A professional photographer will also know how to stay out of the videographer's way. Take a look at our wedding photography gallery and see how capturing your magical monents is an essential part of a successfull wedding.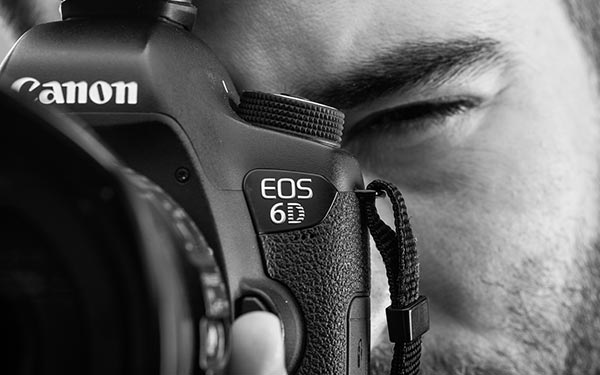 Videographer – Hiring a videographer will allow you to relive your wedding day whenever you want. The professional video they produce for you can then be shared online and/or with family and friends. You can also share the video with those loved ones that could not be at the wedding.
Note: Vows, toasts, and music can't be photographed. These are some of the most moving parts of the ceremony, and you'll be grateful to have these moments captured forever.
Florist – Before hiring a florist, do your homework. Consult wedding magazines and websites to get an idea of how you want your arrangements to look. When it's time to hire a florist, ask them if they can replicate or create the look and feel you want.
Caterer – Your caterer should come with references and experience in catering weddings. They should also be versatile enough to attend any special needs or restrictions your guests may have.
Tip: Check with your wedding venue, they may have in-house catering or a company that they recommend.
Band or DJ – Hiring a band or a DJ depends on your preference of music and what kind of atmosphere you are trying to create. Hire a band or DJ that has experience playing at weddings and that are familiar with the limitations and strengths of the venue you have selected, if possible.
Tip: Read every contract carefully before signing. Make sure all details (date, location, time, deposit, payments, etc.) are correct.
Hire a Wedding Planner
If you find this to be overwhelming and you have the budget, hire a wedding planner to take care of the details and coordination of your event.
9 MONTHS BEFORE YOUR WEDDING –
Make Your Food and Beverage Menus
This is the time to consult your caterer to build your menus. Take the following into consideration:
• Guests with food restrictions
• Adult and children's menus
• Alcoholic and non-alcoholic beverages
• How many courses will be served
• When each course will be served
• What appetizers will be served
Arrange a tasting and include your partner and wedding party. You can vote for which food and beverages work best together.
Purchase Wedding Attire
It is essential to do this now to allow for the time it takes to make alterations. You should schedule the time for fittings (typically 3 for wedding dresses).
Reserve Hotel Space
If you are expecting out-of-town guests, now is the time to reserve a block of hotel rooms to accommodate them.
Tip: Choose a reputable hotel near the venue with a moderate price point.
Make a Wedding Website
Create a personalized website where you can display the date and time of your ceremony, travel information, accommodations, and any other information, photos, and videos you'd like to publish.
6 MONTHS BEFORE YOUR WEDDING –
Start Planning Your Honeymoon
If you are planning an international honeymoon, verify that your passports are current and will not expire while on your honeymoon. This is also the time to see your primary care physician to get any shots or medical clearances you may need.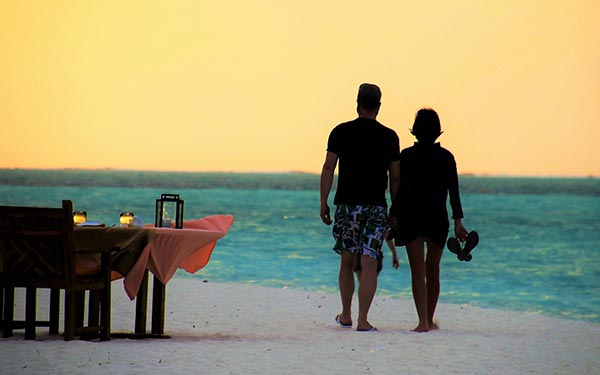 Tip: Check for international and local travel advisories by visiting travel.state.gov/content/travel/en/international-travel.html
Make Your Day-of Timeline
This is the schedule of your wedding day. The more detailed it is, the more fluid your event will be. Consider the following:
• Arrival times (vendors, bride, groom, guests, etc.)
• Appetizer service
• Ceremony start time
• Meal service
• Toasts
• Cake cutting
• First dance
• Party favors
• End of event
If you have hired a planner, he/she should participate in this process.
Consult Your Wedding Officiant
Confirm that you have all of the necessary legal documents for the wedding. These documents may vary by state, county, and religion.
Clothing for Your Wedding Party
Dresses and suits should be decided on and ordered now. Allow five to six months for them to arrive and be properly fitted and tailored. This also allows time to correct any mis-shipments.
Wedding Invitations and Save-the-Dates
Start shopping for and purchase your invitations and save-the-dates. If you plan on having your invitations hand-written, now is the time to hire a calligrapher.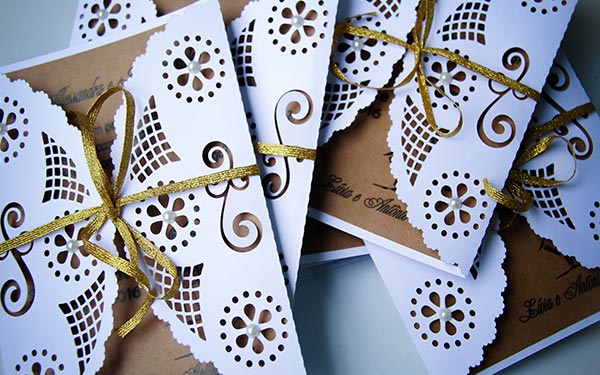 If it is within your budget, you can also have them made by a print shop with as much or as little detail as you like.
This is also the time to send out the save-the-date reminders.
4 MONTHS BEFORE YOUR WEDDING –
Order Your Wedding Cake
Before committing to a baker, arrange three or four tastings. As many popular bakers are in high demand, you should get this locked down now.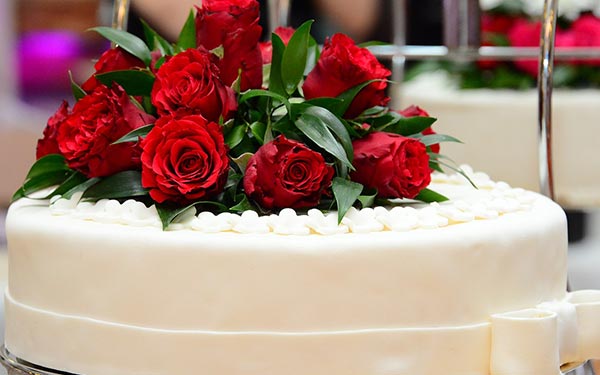 Wedding Shoes and Fittings
Purchase your wedding shoes and take them to your first fitting so the tailor can select an appropriate length for your look.
Wedding Hair and Makeup
Make appointments with several hair and makeup artists to try them out. Take pictures of each of the results as a reference.
3 MONTHS BEFORE YOUR WEDDING –
Make Final Decisions on Food and Flowers
As the availability of food and flowers can be affected by the seasons, now is the time to finalize your wedding menu and flower arrangements.
Once your menu is locked in, print your menu cards, or have them printed.
Wedding Toasts and Readings
Decide who you would like to have toasting at your reception (ask them if they are comfortable doing this). If you plan on having readings at the ceremony, determine that now, along with who you would like to do the reading.
Finalize the Order of Your Wedding Ceremony and Reception
Go over the order of your ceremony and reception, making any final adjustments. Once you are satisfied with the order of events, print programs for attendees and ensure that all of your vendors receive a copy.
Wedding Rings
Purchase your wedding rings now. This will give you time to have them resized and/or engraved.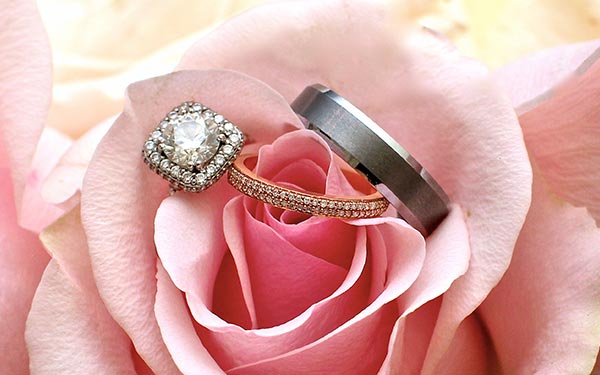 2 MONTHS BEFORE YOUR WEDDING –
Contact Your Wedding Vendors
Take the time to call your vendors and go over their part in your wedding. Any questions must be answered now to avoid confusion on the day of your wedding.
Set Up Meetings
There are three meetings you should arrange:
The DJ or Band – This meeting is to coordinate the type of music that will be played for each stage of your wedding. Making a playlist/wish list of specific songs will be helpful.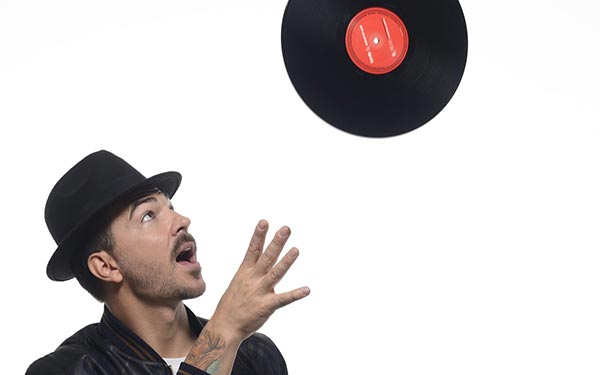 The Photographer – If possible, this meeting should take place at the venue. Talk about the locations that appeal to you and what shots of your wedding are a priority.
The Videographer – Like the photographer, you'll want to do a full walkthrough of the venue. Discuss the moments you want captured and what visual effects, if any, you'd like included in the final edit of your video.
Mail Your Wedding Invitations
Now is the time to mail your wedding invitations. Make sure you set a cutoff date for RSVPs for 3 weeks after the postmark date.
1 MONTH BEFORE YOUR WEDDING –
Contact Your Wedding Vendors Again
Reach out to your vendors to confirm arrival/delivery times, and make as many final payments as you can.
Time to Get Your Marriage License
The issuance of a marriage license can take six to ten days, make sure you give yourself enough time for this process. Order several copies of the document, especially if you or your partner will be changing your name.
Add RSVPs to Your Spreadsheet
After confirming RSVPs, contact those who have not responded.
Schedule Your Last Fitting
While this is your last "official" fitting, you may want to schedule a fitting for the week of your wedding just in case. You can always cancel this fitting if you try on the dress, and it still fits you perfectly.
Assign Guest Seating
With your RSVPs flowing in, you should be able to start assigning guest seating arrangements. Make a layout of the room and table placement, then use sticky notes to place and rearrange guests.
WEEK OF YOUR WEDDING –
Tasks Leading Up to Your Wedding Day
In the days leading up to your wedding, the following should be your last tasks as you will hand over duties and responsibilities to your wedding party:
• Pick up your suit or dress (or arrange for its delivery)
• Write checks for any vendors you have yet to pay
• Delegate wedding-day tasks
• Send a timeline to the wedding party, including all of their contact information, and note those you have assigned tasks
• Send your final guest list to the caterer, include food restrictions (if any) for any of your guests
• Send the guest list to your venue(s) as well
• Book a spa day including a manicure, pedicure, and massage for the day before your wedding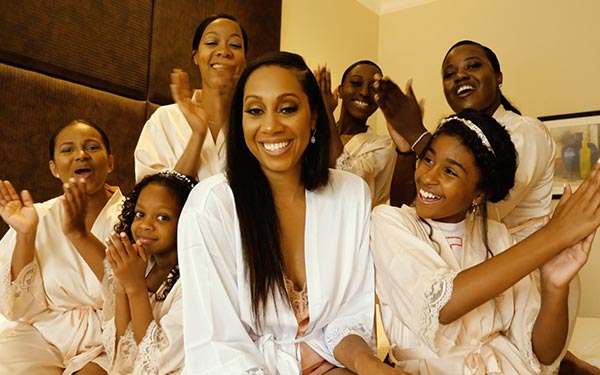 YOUR WEDDING DAY –
Let your wedding party take the reigns and get married.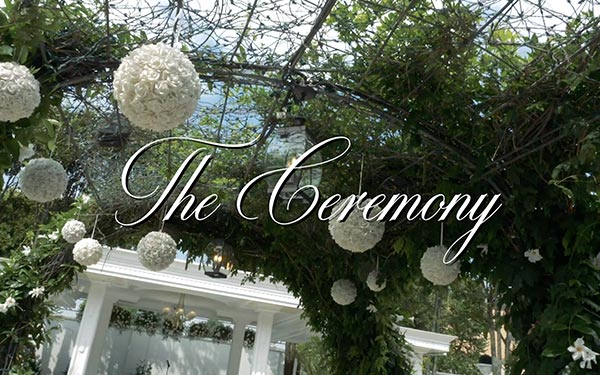 Planning The Perfect Wedding
In this article, you discovered a checklist on a one-year timeline to help you plan and organize your wedding day.
By following a checklist, you can avoid forgetting important tasks or missing deadlines.
When you try to plan a wedding without keeping track of your responsibilities, you risk being stressed out and having a disorganized nightmare of a wedding.
Sources:
brides.com/gallery/how-to-plan-your-own-wedding
npr.org/2012/01/26/145913066/a-guide-to-an-insanity-free-practical-wedding
umt.edu/ces/resources/tips/affordable-weddings.php
Omni Worldwide – Atlanta Video Production Company
1200 Foster St NW Mailbox 46
Atlanta
,
GA
30318
(678) 744-5960